In Memory
Ann Clouse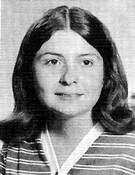 Ann M. Clouse, 54, of the North Oakland area of Chicora died at 6 a.m. Wednesday at her home following an illness.
Born Oct. 24, 1951, in Butler, she was the daughter of Alfred F. "Jake" and Helen E. Lucas Clouse.
She worked at the Moonlite Mushroom Mine in West Winfield for several years until her illness.
She was a member of the St. Joseph Roman Catholic Church in North Oakland, the Christian Mothers and the Legion of Mary of the church.
She is survived by a sister, Kathy Clouse of Chicora; three brothers, James, Edward and Larry Clouse, all of Butler; and nine nieces and nephews.