Announcements Submitted by Classmates
Women's Veterans Day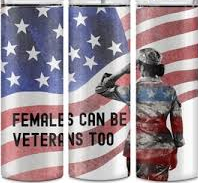 Women's Veterans Day is observed June 12th in the United States, a date chosen to mark the anniversary of the Women's Armed Services Integration Act. Please consider using this website's Personal Message Center or another means to thank our female classmates who served in the Armed Services. As indicated within the Classmate Profiles, they are: Susan Black, Debra Booher and Susan McKee. The stated goal of Women Veterans Day varies somewhat by state, but can generally be acknowledged as an effort to honor the work of women in the United States Armed Forces and recognize the unique challenges that they have faced.
Posted 6/1/23
---
Larry Cumberland

"God has potentially introduced another valley journey through divine appointment for me. I suddenly developed some severe pain in March. The pain seemed to travel through my body with levels varying from 3 to 10 with 1 being a strained muscle from jogging to 10 being the first day awakened in the hospital after a 19 G helicopter accident in 1979. The pain finally settled in my neck, left shoulder, and lower back. I finally called the doctor last week as I was confident this was just arthritis from the crash. Well, the x-rays apparently show some potential for bone cancer in the shoulder and neck. More CT/PET scan tests to follow. I am fine. God has a plan and He is never late (you gotta love those lyrics from "Yes I Will", a song clearly provided to me by Him to help me through my 37 radiation treatments in 2020). I pray for understanding of purpose for this trial, but have faith that God is in control. I have found that I do much better if I know the purpose of God's appointed trials… chastening or faith building or testimony. I ask for your prayers for me for 1)peace of mind, 2)relief of pain, and 3)my continued faith in God's provision and healing."

Prayers and supportive messages will be greatly appreciated by Larry and his family. ❤️
Posted 6/1/23
---
Bill Sheavly
One of our dear "class of 1971" members is seeking our help and as his classmates we will work to come together in his time of need. Your support, prayers and generosity are greatly appreciated! ❤️
Hello! My name is Bill Sheavly and I have kidney failure. I am in desperate need of a new kidney to prolong my life. I am searching for a kidney donor and have also established a GoFundMe page to help pay any additional expenses of the donor. I am asking for your help in finding a willing donor, as well as establishing a fund to help the donor that is willing to make the "gift of life." Your support and prayers are greatly appreciated! BillSheavly@hotmail.com 757-470-3622
To make a donation: GoFundMe.com and type the name William Sheavly in the search bar. Funds left over will be donated to Prisma Health Foundation and directed to the Kidney Transplant Center. Thank You!