In Memory
Wayne Spencer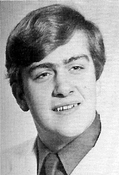 Wayne R. Spencer, 66, died of natural causes on August 10, 2019 while visiting his daughter in Wayland. MA. Born in Pittsburgh, PA on July 15, 1953, he is survived by his devoted daughters Sarah S. McKinney, her husband Robert McKinney and their children Madison, Merritt and Penn, all of Wayland, MA, and Jessica M. Kessler, her husband Brad Kessler and their daughter Charley, all of Seattle, WA.
Son of the late Thomas E. Spencer and Norah (Roberts) Spencer, Wayne is the brother of Thomas Spencer and Donald Spencer both of Port Orange, FL., Charles Spencer of Phoenix, AZ, Jack Spencer and the late Rosemary Jordan and Sonny Spencer all of Pittsburgh, PA.
Wayne spent his formative years in Steeler country and graduated from Butler High School with the Class of 1971. He then enlisted in the United States Air Force and served as a Staff Sergeant during the Vietnam War for four years and then with the Reserves.
After receiving his BS in Engineering from Wesleyan University in North Carolina, Wayne began a long and distinguished career in consumer goods and manufacturing beginning with Black & Decker and retiring in March 2019 from Shark Ninja in Natick, MA.
Wayne enjoyed being "Pap" to his four grandchildren, golfing, fishing, and watching all sports – specifically NASCAR and the Pittsburgh Steelers.
In lieu of flowers, his family suggests that memorial gifts in his memory may be sent to the American Civil Liberties Union and American Heart Association.
https://www.google.com/url?sa=t&rct=j&q=&esrc=s&source=web&cd=3&cad=rja&uact=8&ved=2ahUKEwiPvfu70o3nAhUlvlkKHVinBxMQFjACegQIAxAB&url=https%3A%2F%2Fwww